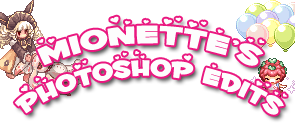 Welcome & hello people of rTO!
I'm Mionette, and I love doing photoshop edits [ I hope I dont go to jail tho.
Lol ]
Mostly I'm doing stuffs exclusively from the 2 games i love the most: Trickster and Ragnarok online.
This is just a hobby, I'm not a pro and not that very much knowledgeable in PS but I can work my way through it.
I thought why not share "my art" [or whatever it's called coz images that Im using images that isnt really mine xD]
to others [well, aside from my guildies] and make a small profit out of it.
Here are some of my samples that I did recently and the past 4-5 (?) years. Mostly are for sigs / banners.
Ragnarok Sprites ( mostly my characters ):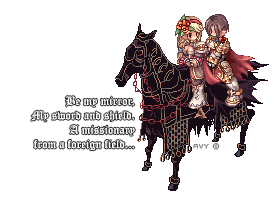 Trickster Online Sprites: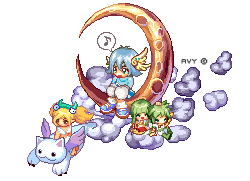 More of Trickster PS edits here ---> http://babyxiongmao316.tumblr.com/
[Thanks to Astroblitz guildies who served as my guinea pigs :lol: ]
So, yeah. That's about it. Regarding prices, i thought about this way..
a. 1 character [with choice of hat] & any pet / monster / npc(perhaps?) + any script = 3k [ like the one with Mionette ]
b. 1-2 characters [hat] + pet + mobs + any script = 5k [ like Illuminti ]
c. Anything complicated *lol* requests that really requires customization [points at RO images and Mami's & the bunbun] = we can talk things out
(If galders, 1k = 3m)
Idk if my prices are reasonable, but yeah, any suggestions would be much welcome. c;
Q: Why just hats? Can I also have weapons and shields and head acce etc?
A: It depends on the concept that I can come up if it will fit the whole "scenario", if it does (like adding tainted bunny wand, bunbun shields for cuteness~) then why not!
Q: What if I want to have the head of my sheep to have the body of an npc/ other chars? is that possible?
A: If it will not look awkward and will blend nicely together, I can pull some strings for you
I can always show you a draft on how it will look like before finishing~
Q: How bout coloring? Can I have like pink blouse, green undershirt, black hair, etc?
A: Err at the moment, I CANT recolor as exactly as what we have on the server (like white hairs turns to like ash gray or sth). And I'm not experienced on that to tell you honestly. But i can do some, but not the really detailed recoloring. Sarreh~ :c
Q: If I had my PS requested today, when can I expect to get it?
A: It depends on your request. Editing takes me like 2-3 hours per image. Why that long? Coz I need to find sprites, conceptualize, bring stuffs together, recolor, clean the images/ sprites and I need food & pee breaks in between
I'm a fulltime student so mostly I face my pc to do edits from 6pm - 10pm. (btw my timezone is the same as the website)
To give you a scenario: what I did for my guildies, I had them scheduled 2 works per day. They all requested last Saturday (I think?) and started working on Sunday. "First come first served" basis of course. So if there's quite a few people who requested before you, you might be waiting a couple of days for your turn. c:
Q: Can you do animated edits?
A: Sadly, no :c I don't have the power to do that yet, but I'd love to learn!
Q: Can I mix RO & TO sprites in my requests?
A: Yes definitely!
Q: Do you love pandas?
A: YES VERY MUCH!
So I think that's it? For requests you can follow this format perhaps:
1. Character (specify what job)
2. Hair color (please don't request anything like "I want a rainbow hair!
")
3. Pet / Monster to go with your char
4. Headgear
5. Character name / Any text you want
You're very much welcome to say how you wanted things to be done, example: "I want my librarian sleeping beside tenterpaws" or sth like that. You know what I mean
There might be some similarities on the scenes due to the same images that i will be using but i will try my best to personalize everything (perhaps recolor?)
Thank you! c: