So I've realized that many people don't know that your daily fortune is an indicator of how many items you'll get from your treasure hunts. I was going to make this guide to solely indicate which fortune shows what, but I figured I should start from the top for those who don't know how to start treasure hunting in the first place. Sorry this guide isn't pretty like the others, as it was just intended to be a quick and dirty guide in the first place!
FAQ:
1. What are the maps for?
Worn and old maps spew out various items, mostly galder coupons and food items. Other key items that come from these maps are chaos feathers, nikarium fragments, and black elixir fragments. Food items, along with recipes found from drilling anywhere, are used to make various heal items at the Black Market. To get to the Black Market, you need a weird map.
2. What's the difference between worn and old maps?
Iirc, nikarium fragments only come from worn maps. Old maps have black elixir fragments, instead, as well as more galders/CFs.
3. I've only made one worn map! Why won't Reina let me make more?
You can only take the quest if there are no full maps currently made in your inventory. If you're making maps in batches, I suggest having a secondary character (yours or a friend) hold your already made maps.
4. How do I make old maps?
In order to make old maps, you have to do the worn maps at least 50 times. Once you've done that, you can only get an old map once a day.
5. Where is Reina/Marky in ____?
Refer to the ggFTW's wiki for each of their location.
6. What are nikarium fragments used for?
Nikarium fragments are required in order to make a full nikarium. Complete nikariums are used to make powerful equipment. In order to make these powerful equipment, you'll need a full nikarium and two pieces of old equipment of the type you're planning to make. Both powerfuls and nikariums can be made in the Black Market. You'll need to go to the corresponding black markets for your equipment, though. (e.g., Powerful sticks are made in Techichi's black market.)
TREASURE HUNTING
Step 1: Start by doing the quest from Indiana John in Southeast Forest, shown here: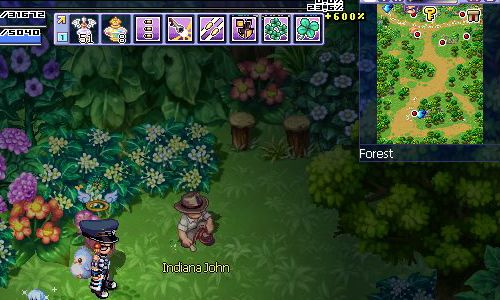 Step 2: Now that you've done the quest from Indiana John, you're now able to make maps! There is a Reina and Driller King Marky in each area. You can make worn and old maps (once a day for old maps) with Reina, and weird maps with Driller King Marky. Refer to the ggFTW's wiki for each of their location. Do note that you can only make a map if there is none in your inventory, so if you're making multiple maps at once, have a secondary character hold the already made maps.
Step 3: Once you have your map, double click it to activate it. An icon should appear between your miniquest view icon and your mail icon.
Hover over this icon to find the location of your treasure. (Or double click it to open up the Map view.)
Step 4: Once on the map, your chat window should have some indication of your Detect Level. (If you don't see one right away, just walk further into the map.)
There should also be a radar continuously blinking underneath your character. The closer you are to the hidden spot, the faster it blinks.
It's basically the "hot or cold" game, 6 being the furthest and 1 being the closest. Run around til you find it!
Step 5: Once you find the right spot, a message should appear like this: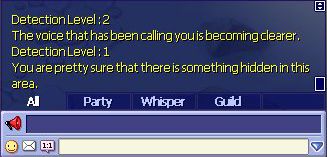 If you've hit the right spot, a giant "SURPRISE" should pop up once you've started digging.
Annnd you've found your treasure! Congratulations! Now, rinse and repeat as many times as necessary. :>