Hello, is it possible to tweak the website cooldown for temper and recyle from 5 seconds -> to 3 seconds or less?
Also, is there any chance to implement MyShop transfer similar to mileage transfer? The reason is because I have few MyShop points in lots accounts and can't do anything with that atm.
The transfer should be the same as the mileage part under manage account:

*note: players could use that to sell MyShop points (needless to say it's high risk, since that way it's not safe and the transaction with galders would occur in-game or in auction house).
Last, i'd like to suggest the following exchanges in Poppuri (Event Garden) for the next patch:
2x

Growth Vitamin

->

1x

Protein Candy
2x Lock Candy

->

1x

Protein Candy
2x Shara's Bottle ->

1x

Nate's Bottle
5x Craftman's Anvil ->

1x

White Elixir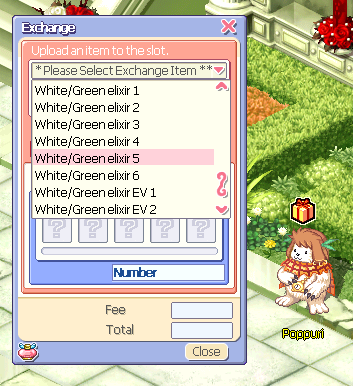 Thanks