Hello! I sincerely hope I'm doing this properly! I don't frequent the forums often at all. Sorry for the wall below, I just want to give as much detail as possible.

IGN - Cordelia
I recently hit lvl 235, and was alerted that I could start some new KeyQuests! Great! (Although I knew I hadn't finished a few prior KeyQuests, such as Snow Hill for example. So I was fully aware I'd have to do a little back tracking in quests before I could start up the new KeyQuest I just unlocked
)
However, I found myself sent ALL the back to Caballa Relics KeyQuest. Yikes. It's a little concerning because I do know for a fact that I had finished it back in the day. So I had to recollect all the stickers by doing most of the quests in Caballa again- annoying, but easy because I'd been a higher lvl than all the monsters. The remaining stickers I just bought because honestly... I didn't really want to do it all over again. You know? It still does take up time.
The old Fortune Teller Lady accepted my stickers and was all good for me to start Caballa KeyQuest.
I got Julio's key (and gave it to him)
Julio has given me the Gold Silk Pouch (I still have it)
The Fortune Teller Lady however will NOT recognize my Adventurers Book. Despite me seeing it clear as day in my inventory lol. Julio wont recognize it either. I've quit all quests and reaccepted them, I threw my AB in my storage and took it back out to see if that'd help. But neither worked. (I also read my AB and I see old quests that I've done in other regions)
I'm aware that you can prematurely give the Silk Pouch back to Julio- but even HE wont take it lol. Because he cannot see the book in my inventory either for some reason. I've taken a screenshot that I'll post at the end to show you.
I don't know what could be causing this. The game must recognize that I'd completed at LEAST Desert Beach KeyQuest or I wouldn't have been allowed into Caballa's KeyQuest, correct? (Same with PopDungeon)
Another little tidbit of info, I've played in Season 1. Which I did read in other topics to cause some issue with KeyQuest. Which is fine and all, but my issue is the fact that my item will not be accepted by NPCs. I sincerely hope that I do not have to redo all of desert beach, and pop dungeon to get stickers again as well. I don't think I should have to as the Fortune Teller Lady never once prompted me to finish KeyQuests in either of those locations before allowing me to continue.
In the screenshot below, you can see the lady saying I do not have the AB. As well as my quest mini menu saying 0/1.
Right under it, my cursor is hovering over the AB I've had since day 1.
Julio says something similar (asking for the AB as well)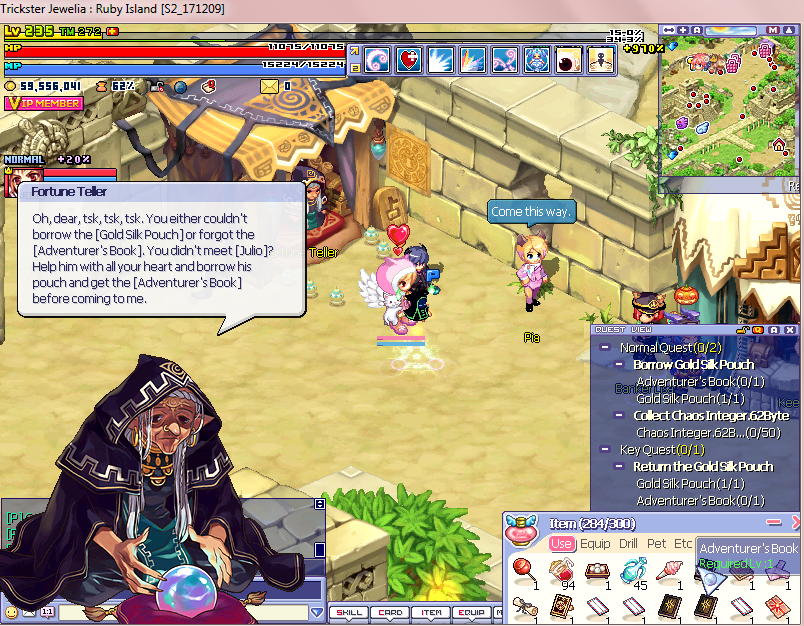 Thank you so much for any information or help regarding the manner. I'm sorry for writing so much, I'd just rather spill it all out at once.
If you need any further info from me please let me know and I'll do my best to deliver it
EDIT *** I'm aware that this screenshot says I have 284/300 inventory~
I've since then cleared it out to below 270 and it stil yields the same results. (I read another topic where this was brought up. So I just wanted to clarify that I've tried that option as well)